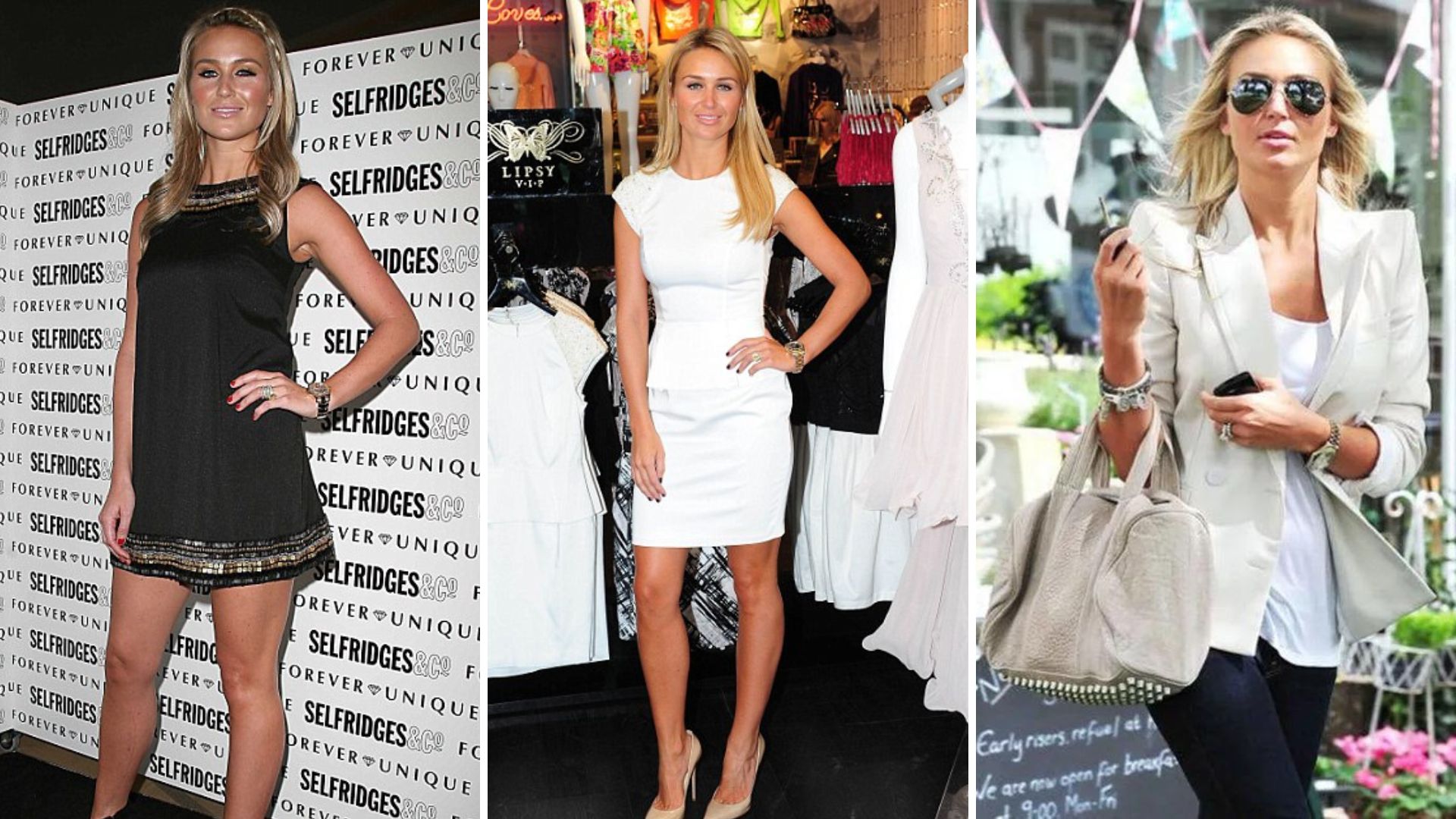 Alex Curran, born Alexandra Curran, is a model, fashion columnist, and television personality from England. She was born in Aintree, Liverpool, on September 23, 1982. Curran is known for her contribution as a fashion designer and is famously known for being Steven Gerrard's wife.
In this article, we will look into the life of Alex Curran and how her life is being a footballer WAG to such a high-profile sports star as Steven Gerrard.
Being described as the leading WAG of the England national team, along with women such as Collen Rooney and Victoria Beckham. We will examine her lifestyle, how the couple met, and briefly discuss her career accolades.

Steven Gerrard's Wife's Career – Alex Curran
Curran began her modelling career and is known for her fashionable appearance and fashion sense. She was a fashion columnist for the Daily Mirror in the United Kingdom, where she wrote a regular column about fashion and style.
Alex Curran rose to prominence due to her relationship with Steven Gerrard, the captain of Liverpool Football Club and the England national team. The couple began dating in 2002 and married in June 2007.

Alex Curran Quick info
Name: Alex Curran (Alex Gerrard)
Date of birth: Sep 23, 1982
Place of birth: Aintree, Liverpool, England
School: Maghull High School
Height: 5ft 9in (175cm)
Occupation: Past Model, Fashinosta, Business Owner
Children: 4 (Lilly-Ella, Lio, Lexie & Lourdes)
Hair Colour: Blonde
Eye Colour: Blue
Parents: Kim Clayton (Mother)

Steven & Alex Gerrard's Wedding Day
After dating for five years, Steven and Alex tied the knot on June 16, 2007. In 2006, the couple got engaged while on vacation in Portugal, then waited the following year to make it official.
The ceremony was at Cliveden House, a luxury hotel in Buckinghamshire. Evidently, on the same day Gary Neville and Michael Carrick were to marry their partners.
Like any English football WAGs dream wedding, theirs superseded all expectations with an all-out ceremony, with their pictures being documented all over national news magazines for all to see. With a top catering team and a unique performance from 'The King Of Swing,' Matt Ford from Nuneaton, to get the party started, no expense spared.

Alex Curran's Clothing Range
In 2010, Curran released her first clothing range, named Forever Unique. Her autumn/winter 2010 collection separating into two sections – Alex Glam and Alex Rock – to reflect her various dress senses, and prices range from £30 to £245.
While her Glam collection is more animal-print and sequin-heavy, her Rock collection is more military-themed and features skull designs.

Related Articles

With her new spring/summer collection, she aims to appeal to an even broader range of fashionistas by launching three distinct ranges – Festival, Races, and Couture – all with very different price points.
The Festival line starts at £50 for floaty floral dresses. In contrast, the Couture line's most expensive item is a £550 white gown with glitter-encrusted embellishment.
Following the success of her first clothing range, Alex was to open a second line in 2011, with more focus on festival-style attire, attracting the young to middle age market. Showcasing her range in top boutiques such as Selfridges etc.

Alex Curran Charity Activities
Alex is no stranger to charitable events and activities. She likes to give back and help with various organisations, putting her fashion experience and fame to good use.
Alex Gerrard has been a vocal supporter of the Alder Hey Children's Hospital in Liverpool, England.
She has participated in fundraising events and campaigns to raise awareness and funds for the hospital's work in providing paediatric medical care.
Curran participated in Fashion Kicks, a charity event organised by her husband, Steven Gerrard, and his former Liverpool FC teammate, Jason McAteer.
The event combines fashion and football to raise funds for various charitable causes, such as children's hospitals and cancer research.
Alex has also supported the Claire House Children's Hospice, another Liverpool-based charity. The organisation cares for and supports children with life-threatening illnesses and their families. She has helped raise awareness for their cause by participating in fundraising events.
Alex is also a member of the Variety Club. This charity works to improve the lives of disadvantaged and disabled children. She has attended their events and assisted in raising funds for their causes.
Alex also walked the runway at Naomi Campbell's Fashion for Relief charity fashion show in 2010. The event's goal was to raise funds for a variety of causes, including disaster relief and children's charities.

How did Alex and Steven meet?
The couple met for the first time at Liverpool's Southport Lounge nightclub. According to reports, Steven Gerrard noticed Alex Curran from across the room and was immediately smitten. He approached her and chatted her up. At first, Alex played hard to get and didn't want to seem too easy, like a typical girl falling for a football star.
This was only to make Steven try harder and challenge her, with him being used to girls falling at his feet. In the beginning, however, Steven was dating model and actress Jennifer Ellison, and Alex Curran was dating businessman Tony Richardson, which ended after a few months.
After some drama with Jennifer and Alex, Steven's relationship was to end, and they shifted towards each other. This was the start of what is now a prosperous relationship together.
Steven Gerrard was already accustomed to the media spotlight as a high-profile footballer, and Alex Curran, with her modelling background, was also. Their relationship quickly drew public attention, and they rose to fame in the public eye as one of Liverpool's most famous couples.
Steven Gerrard's career flourished over time, and Alex Curran's popularity in the fashion industry grew. They were frequently caught by the paparazzi while attending events together. Despite the difficulties of celebrity and the media's scrutiny, their relationship survived.

Alex Curran's Social Media
From visiting Alex's social media pages and examining her Instagram page with 7.3k followers, it's apparent she is very family orientated with the majority of her posts of her and her children.
After further investigation into her Twitter and Facebook accounts, there are a few fan pages but nothing confirming her legitimate account. This may indicate she likes to keep a relatively private life or is very career-orientated and not spending time on social media.


What is Alex Curran doing at the moment?
As of 2023, Alex is living back in England, UK. After moving from LA and Scotland due to Steven's past career commitments. Alex will still be working on her fashion range and mothering her four children.
She has been seen with her husband Steven at various dinner gala's and high-profile events around the UK, rubbing shoulders with UK celebrities and past and previous sports stars.
Alex will be enjoying her time being a retired footballer's WAG, hanging out with friends and family on odd occasions, and keeping up appearances to help promote her clothing range.

Conclusion
In conclusion, Alex Curran, the charismatic English personality, has carved out her unique path in the world of fashion, fame, and football. Her story is nothing short of extraordinary, from her beginnings in Liverpool to becoming the leading WAG alongside stars like Victoria Beckham and Coleen Rooney.
Alex's diverse talents shine brightly as a model, fashion columnist, and TV personality. Still, she's perhaps best known as the stylish partner of football legend Steven Gerrard.
We've explored her rise to prominence, their lavish wedding, and her successful venture into the fashion world with Forever Unique. From red carpets to festivals, she knows how to make a statement.
But Alex is not just about glamour; she's a philanthropist at heart. Her involvement with charitable organizations like the Alder Hey Children's Hospital and Claire House Children's Hospice demonstrates her dedication to making a difference.
Let's remember the captivating tale of how Alex and Steven's love story began in a Liverpool nightclub, ultimately enduring the trials of fame and media scrutiny.
In 2023, Alex is back in the UK, relishing her life with Steven and their four children. She continues to grace high-profile events while managing her thriving fashion empire.
In conclusion, Alex Curran has shown us that being a footballer's partner is just the tip of the iceberg. She's a star in her own right, leaving an indelible mark on the worlds of fashion and philanthropy. Cheers to Alex's remarkable journey!