The phenomenon of English Football WAGs gained a reputation in the early 2000s, particularly during major international tournaments and high-stakes club competitions. The media and public became captivated by these influential women's luxurious lifestyles, extravagant fashion choices, and celebrity status. UK WAGs quickly became symbols of aspiration and glamour, with their every move and fashion statement under scrutiny.
While some English WAGs have used their exposure to launch successful careers in their own right, many have preferred to concentrate on their roles as partners and mothers. They cheer on their footballer loved ones from the stands, attending games and rooting for their respective teams.
On the other hand, WAGs are far from mere ornaments or decorative figures; they frequently contribute to charitable causes, pursue business ventures, and actively engage in philanthropy.
In this article on the top English football WAGs, we will compile a list of the ten most notable England footballers WAGs from past and present.

Milly Adams (Ben White's Wife) – #10
Milly Adams is famous for being the WAG of Arsenal star Ben White. Despite being humble, Milly Adams has already advanced in her professional career. She is now a well-known model and an Instagram sensation.
Born in Hertfordshire, England, Milly works as a model professionally. She had a passion for modelling since she was in college. So she began modelling for local photographers, earning a decent living.
She is also a brand ambassador for several well-known bikini brands. Milly's seductive looks went viral on social media and became extremely popular on Instagram. Because of her large online audience, she has a lot of potential to receive brand sponsor deals.
With a legal ceremony at the Old Marylebone Town Hall in London, Milly and football star Ben White recently tied the knot on 21st May 2023, following a second wedding in Mallorca in the Canaries on 17th June 2023.

Victoria Beckham (David Beckham's Wife) – #9
Victoria Beckham is one of the most iconic WAGs and arguably the most famous and wealthiest on this list. Being English footballing legend David Beckham's wife certainly helped her profile and net worth.
Born in Harlow, Essex, we recognise Victoria Beckham as a former pop group Spice Girls member known as "Posh Spice." With over a decade of experience in the music industry and being a huge figure in the public eye.
Victoria is not now really seen in the category of English football wags, but more of a business entrepreneur and fashion icon, still showcasing her fashion range on some of the top runways in the world, in places such as Milan, NYC, LA and Paris, to name a few.
Victoria Beckham and David Beckham are, without a doubt, the power couple and the first person you think of when you hear the term famous footballer's wife.

Sasha Attwood (Jack Grealish's Girlfriend) – #8
Sasha Attwood, born 30th May 2001, is a rising star among England football WAGs. Her most well-known relationship is with British professional footballer Jack Grealish.
Sasha's personal life has gotten a lot of attention because of her long-term relationship with Jack Grealish, a talented footballer known for his contributions to the game. Because of Jack's prominence as a player, their relationship has piqued the interest of fans and the media.
While little is known about Sasha Attwood's professional endeavours, she has maintained a strong presence on social media platforms, sharing glimpses into her life and personal style.
Sasha Attwood's role as a football WAG includes attending games and events to support her partner Jack Grealish. She has frequently been spotted in the stands, demonstrating her support and dedication.

Kennedy Alexa (James Maddison's Girlfriend) – #7
Kennedy Alexa is also a new addition to the England football WAGs list, dating England footballer James Maddison.
There is only a little to go by through the internet of their relationship journey of how it began. However, judging from their social media, the couple likely started dating in 2020.
It's no surprise that Alexa previously worked as a model. A quick scroll through her Instagram, which has nearly 65,000 followers, reveals the stunning brunette posing in various fashion shoots.
She shot a campaign for the Princess Polly online boutique and has adapted well to the England football WAG life – living the glam life.
Alexa used to travel to some amazing places as a model. Posting photos from her incredible vacations on Instagram, including stays in Hawaii and a once-in-a-lifetime trip to Prickly Pear Island in the Caribbean island of Anguilla.
Alexa's life has settled down since being a mother to her three children, including two twins, and she is seen supporting her boyfriend during his games for Spurs.

Alex Gerrard (Steven Gerrard's Wife) – #6
Alex Gerrard is a well-known figure among English football WAGs. She has gained attention and admiration for her style, grace, and philanthropic efforts as the wife of former professional footballer Steven Gerrard.
Alex rose to stature when she began dating Steven Gerrard as a teenager. Their relationship blossomed into marriage in 2007, and they have since become one of the most adored couples in English football.
Throughout Steven's accomplished career, including his time as Liverpool FC's iconic captain, Alex supported him through triumphs and setbacks. However, Alex has carved her path and made a name for herself outside her role as a supportive footballer's WAG.
She has been recognised for her impeccable sense of fashion and has appeared on the covers of fashion magazines. Many have been inspired by her elegant style choices, establishing her as a trendsetter in her own right.
Alex Gerrard's influence extends beyond the fashion world. She has been actively involved in philanthropic endeavours, using her status to raise awareness and support various charitable causes.
Her commitment to making a positive difference in the community has won her fans and admirers.

Tolami Benson (Bukayo Saka's Girlfriend) – #5
Tolami Benson is also another newcomer in the world of English Football WAGs. She announced dating the Arsenal star, Bukayo Saka, around 2021.
Tolami is your typical footballer's WAG in the sense she loves living the high life. One glance at her Instagram, which boasts 34k followers, shows she loves documenting everything about herself and where she has travelled.
Benson is of Nigerian descent, and her personal career isn't documented much online. However, she has done semi-professional modelling and is a social media influencer.
According to some of her Instagram posts, Tolami, like her boyfriend, Bukayo Saka, is an Arsenal fan. In some of her social media posts, the stunning influencer has been seen wearing the Arsenal jersey.
With frequent posts of her jet-setting lifestyle and glamorous fashion style, since dating Arsenal's top boy Saka, it's been noticeable that her lifestyle has improved dramatically.
Like most English WAGs, Tolami is very supportive of the games and seen alongside Saka cheering for England during International tournaments and is a regular at the Emirates Stadium.

Abbey Clancy (Peter Crouch's Wife) – #4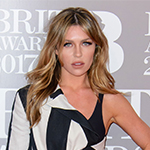 Born on 10th January 1986 in Liverpool, England, Abbey is a well-known figure in the world of UK footballers' wives and girlfriends.
She became a model, television personality, and fashion icon.
Abbey Clancy rose to prominence after winning the reality television show "Britain's Next Top Model" in 2006, catapulting her into the fashion world. 
Her striking appearance, poise, and natural charisma quickly established her as a sought-after model, appearing in numerous high-profile campaigns and on the covers of many well-known magazines.
Abbey is a WAG to former professional footballer Peter Crouch. The couple's union has captured the public's attention with their charismatic personalities and glamorous lifestyle.

Sam Cooke (Chris Smalling's Wife) – #3
Sam Cooke is a well-known figure among UK footballers WAGs. She has succeeded as a model, social media influencer, and entrepreneur from Manchester.
Sam Cooke rose to prominence as a model, appearing in numerous fashion magazines and working with well-known brands.
Her stunning beauty, impeccable style, and assured demeanour have made her a sought-after model in the industry.
Sam is a WAG married to a professional footballer, Chris Smalling. Their relationship has sparked interest among fans and the media. Her support and game attendance have made her a familiar face among football fans.
Sam has made a name for herself as a social media influencer in addition to her modelling career. She has a sizable following on social media platforms such as Instagram, where she shares her fashion, beauty, and lifestyle choices.
Her genuine and relatable content connects with her audience, establishing her as a reliable influencer and notable mention in the UK WAGs community.

Anouska Santos (Luke Shaw's Girlfriend) – #2
Anouska Santos is best known as the girlfriend of Manchester United midfielder Luke Shaw. Anouska is not your typical WAG, and she avoids excessive public appearances. 
When it comes to her personal information, she has kept it private. Even though she has been dating Luke Shaw for a long time, she kept it a secret for a while. As a result, many fans were unaware of their relationship at first.
Luke was a huge success at Manchester United. He has risen to become the Red Devils' first-choice full-back and has excelled in his role.
As a result, his career and personal life have recently received a great deal of media attention.
Anouska is a stay-at-home girlfriend/housewife caring for their two children in Manchester. The couple posts a few family shots together on their socials.
Anouska doesn't come across as your stereotypical footballer's WAG but more of the family-orientated, supportive figure within their relationship.

Polly Parsons (Thomas Vermaelen's Wife) – #1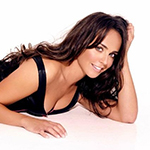 Polly Parsons is a British television presenter and actress born on 15th February 1984. She rose to prominence in the entertainment industry by appearing on various television shows and hosting programmes.
Polly began her career in the early 2000s as a presenter on the children's television show "The Saturday Show," she later hosted the spin-off programme "Smile." Her outgoing personality and natural on-screen charisma made her a popular choice for hosting roles.
Polly has hosted several television shows throughout her career, including "The Real Hustle," a show about the art of scams and cons, and "Soccer AM," a popular football-related talk show. Her work on "Soccer AM" allowed her to demonstrate her football knowledge and passion.
Polly has dabbled in acting in addition to her hosting duties. She has appeared in several television dramas and series, including "Echo Beach," "Meet the Parents," and "Two Pints of Lager and a Packet of Crisps."
In the English football WAGs world, Polly married Belgium footballer Thomas Vermaelen in 2017. The previous Arsenal and Barcelona centre-back has been a regular in his International Belgium career.

Conclusion
After further research, the more modern-day English Football WAGs are looking for a better life, and their status revolves around how they look on social media. The older generation WAGs normally had career prospects before meeting a football boyfriend. However, the more recent tend to be from a model or influencer background.